Superior Products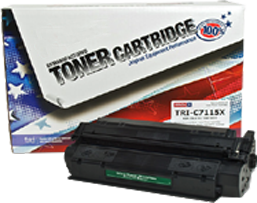 TRI Industries is a leading provider of remanufactured imaging supplies. We feature quality-tested Skilcraft™ products that are 100% satisfaction guaranteed. TRI's high-performance, eco-friendly office supplies will support your business, budget, and environmental objectives. Our knowledgeable staff members are committed and eager to assist you with personalized office solutions and prompt delivery.
Social Impact
In addition to providing quality and sustainable office solutions, TRI exists to create work, training, and support for people with significant disabilities. In the U.S., nearly 80% of people who have significant disabilities do not have jobs. By choosing TRI, you help provide gainful employment, support self-sufficiency, and transform lives.
Returning Customers
Click below to login and start shopping.
Start Shopping
New
Customers
New customers are welcome. Please contact TRI today.
773.754.3100
Recycle
Imaging Supplies
Whether you have a few boxes or several pallets to recycle, we'll provide the solution.
Start Recycling
Proud suppliers of Skilcraft™ brand of ink and toners.